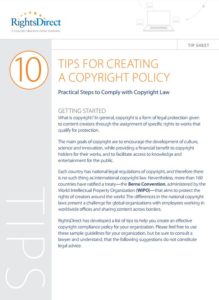 Conflicting international copyright laws create a maze for global companies. RightsDirect has developed a list of tips to help organizations create an effective copyright compliance policy and simplify copyright for their employees. Download this tip sheet to learn:
How to define what copyright means
What international treaties affect copyright globally
Reliable resources for accurate copyright information

If you'd like to receive other great content like this as well as insights from your peers, inspiration from thought leaders, industry trends to help you stay ahead of the competition, and license and product updates, fill out the form to the right.
Your prior consent is required to receive future informational mailings from Copyright Clearance Center, Inc. (CCC) and its wholly owned subsidiary RightsDirect (RD) about upcoming events, their products and services, informative content on related topics and company news. You can provide consent by ticking the checkbox and submitting the form on this page. You can withdraw your consent at any time. For more information about the processing of data and your rights click here.
Let's Keep in Touch
Please fill out the form below to receive the latest content, product updates, webinar invitations and more from Copyright Clearance Center and RightsDirect.